Most of the places listed below are within a 5-minute walk of Beethoven Villas, but we've also listed a few other key places (such as the best dance bar) that should come in handy for some guests. The photo you see is looking out the front door of the Front House and looking at the parking lot and back entrance of the Auslander German restaurant.
The list below can also be found in the House Manual in your villa for your convenience.
Places steps from Beethoven Villas
Woerner Cafe
305 S Lincoln St – 9 AM to 3 PM Monday to Saturday
This place is behind Beethoven Villas and it's excellent. They serve light breakfasts and sandwiches, salads, and pizza for lunch. You can walk past the Yellow Villa in back of our property and into their parking lot. The back entrance is the left-most building closest to the creek. Highly recommended.
Auslander German Restaurant
323 E Main St – 11 AM to 9 PM closed Wednesdays
Arguably Fredericksburg's best authentic German restaurant is literally across the street from Beethoven Villas. You can walk straight into their parking lot and into their back entrance. They have a beer garden, a bar, and a large dining room.
Lincoln Street Wine and Cigar Bar
111 S. Lincoln St – 11 AM to midnight
Another close neighbor, Lincoln Street is on the corner to the left as you look out the front door of the Front House. They have a huge selection of wines and beers as well. They serve snacks and have tasteful live music on their patio, which you might hear in the evenings if you are out front.
Lincoln Street Wine Lounge official website
Chase's Place cocktails + kitchen
313 E. San Antonio St – 4 PM to 11 PM, Tuesday through Saturday
On the corner, three doors to the right as you look from the house to the street, is a new and amazing cocktail bar. It's gorgeous on the inside and out, and definitely worth at least a try. They have a some bottled beer and a few wines, but it's really about mixed drinks here. The food is also excellent and I highly recommend the pulled pork fries (fully loaded) for those with a bigger appetite.
Chase's Place official website
Best nearby fine dining
August E's
203 E San Antonio St – 5 PM to 10 PM Tuesday to Saturday
The fanciest restaurant in Fredericksburg is just one block away to your left when facing the street. They serve sushi and interesting fine-dining options in a loft-gallery setting. Not cheap, but great quality.
Best close semi-casual restaurant
Vaudeville Bistro
230 E Main St – 10 AM to 9 PM Friday & Saturday, 10 AM to 4 PM Sunday to Thursday
The bistro and bar are in the basement of a boutique on Main Street, 2 blocks from us. It's hard to find if you don't know it's there, but it's very popular for excellent salads, sandwiches, and casual cuisine.
Vaudville Bistro official website
Best place for dancing (especially for the ladies)
Crossroads Saloon & Steakhouse
305 W Main St – 5 PM to 2 AM Friday and Saturday, 5 PM to 11 PM Thursday and Sunday
This large restaurant is very popular with locals. The saloon in front is by far the best place for dancing to live music and DJs on weekends. They play country, pop hits, and classics. Fredericksburg is a big destination for groups of women on a "wine weekend," and those who want to dance, come here. In fact, it's mostly women on weekends.
Best cool locals restaurant
The CLUB at Baron's Creekside
316 Goehmann Ln – 5 PM to 11 PM Thursday to Saturday
It's 1.6 miles away so you'll want to drive, and fortunately they have a big parking lot. This is a quirky and fun restaurant and bar with live music that is popular with locals and frequent visitors. Highly recommended for something different, and it's on a large and lovely property.
Best weird/late night bar
Der Daiwel Rock Bar
321 E Main St – 6 PM to 2 AM nightly
Most bars and lounges in Fredericksburg close early (usually 10 PM or 11PM), so it's handy that this odd place is one block away from us on Main Street, and it's open until 2 AM every night. Expect to hear obscure heavy metal from new bands and some classics. At least they don't blast the music too loud, so it's fun for a while even if you don't love the tunes.
Best cheap and close breakfast on Sunday
Twisted Sisters
111 S Washington St – 7:30 AM to 5:30 PM or noon on Sundays (closed Monday)
Many local places (including Woerner's Cafe) are closed Sundays, so it's extremely handy to have this casual coffee shop/bakery just around the corner. They serve breakfast burritos in addition to baked goods and salads. They are cheap as well.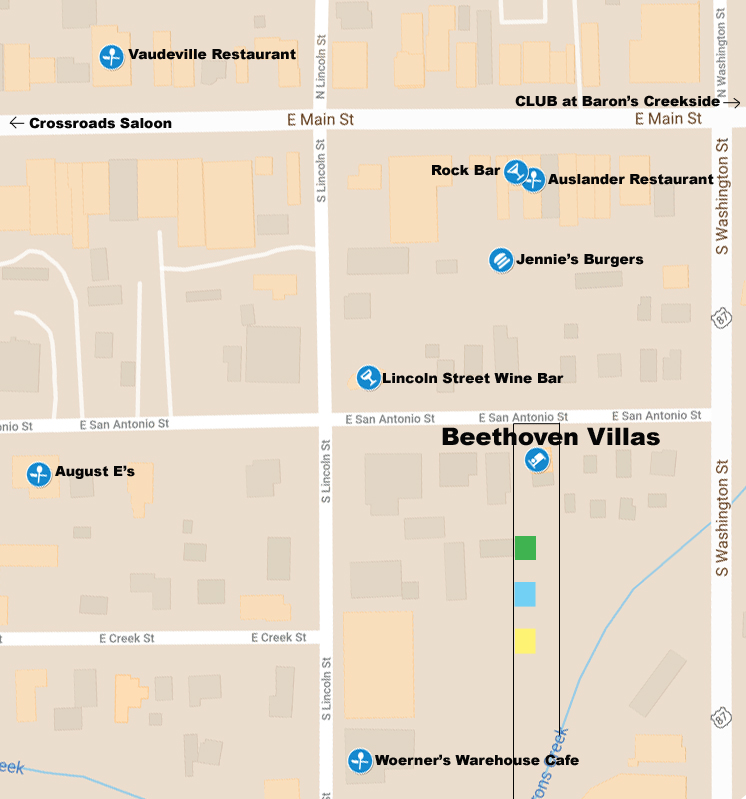 Saturday Wine Shuttle
Every Saturday from 10 AM until 6 PM, the 290 Wine Shuttle leaves from the hotel just around the corner from Beethoven Villas. Looking out on the front of the property, walk right on San Antonio Street to the corner of Washington Street, then turn right and just on the other side of the creek you'll see the Inn on Baron's Creek on your right. It's a 5-minute walk.
The shuttle visits about 20 wineries in a loop before returning to the starting point. It costs $39.99 per person and is a fun way of visiting many local wineries without having to worry about driving.